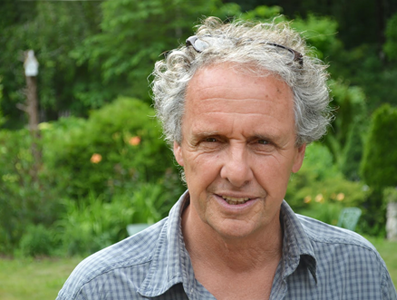 John Mitchell and I conclude our exchange on Thoreau, wildness, climate, and "conservation in the Anthropocene"
(Read part one of the exchange.)
*     *     *
From: Wen Stephenson
To: John Mitchell
Hi John,
I'd like to pick up on a couple of ideas in your first response, which I very much enjoyed. (Poor Kareiva, he's got Thoreauvians ganging up on him now…)
First, it has to be noted that time and place, human and wild, have been preoccupations of yours for quite a while.  And I want to ask you about time — both geologic and human-scale — and the concept of the "Anthropocene," which collapses the two.
In Ceremonial Time, you wrote the natural and human history of (as the subtitle puts it) "15,000 Years on One Square Mile." That square mile being Scratch Flat, as it used to be called, in Littleton. (Confession: after reading that book for the first time just a couple of years ago, I drove up to Littleton and poked around your neighborhood, book and map in hand, because you'd brought the landscape to life so vividly I had to see it for myself. I hope you'll take that as the compliment it is.) Now, that book was published in 1984. I wonder, would you write it — or frame it — differently now, given what we know about climate change, the Anthropocene, and the deep uncertainty of our too-near human future on this planet? Does the concept of Native American "ceremonial time," as you learned it from your Pawtucket-Micmac Indian friend, Nompenekit, still offer a way of thinking about and living in the present? Maybe you could just briefly describe the conceit of that book and how it appears to you from this distance.  I'd say it holds up awfully well. (Of course, you wrote another book — also set there at Scratch Flat — called Living at the End of Time. So maybe that's the title we should be talking about!)
Second, I want to say, it's great to see that your new book about the garden continues in the vein of other books you've written about natural history, and the idea of "wildness," on small patches of earth — not just in Ceremonial Time, but  A Field Guide to Your Own Backyard and Living at the End of Time, Walking Towards Walden, The Wildest Place on Earth (your book about Italian gardens) and even your book on the natural history of Boston, The Paradise of All These Parts.  Of course, you're also the longtime editor of Sanctuary, a magazine about conservation and the environment of Massachusetts. And I can't help wondering how how the two lines of work, the two strands of your career, intersect — and the perspective that intersection gives you.
In other words, if I can echo part of my previous question, so much of your work is about the effects of time, and both human and nonhuman forces, on landscape, often right down at a very close and intimate level.  You understand, in a way most of us never quite approach, the reality of flux. In a way, as you've suggested, flux is the only reality.  So how do you understand conservation in a world of flux? That's a big, abstract question, I know, but maybe you can bring it back down to earth for us.
*     *     *
From: John Mitchell
To: Wen Stephenson
Hi Wen:
Here are my responses. Good questions!
> Maybe you could just briefly describe the conceit of that book and how it appears to you from this distance.
Ceremonial Time could arguably seem to offer evidence for Kareiva's concept of Anthropocene.  There is a very good reason for the fifteen-thousand year framework of the narrative.  Basically, the book is a history of a square mile of land.  It could have been anywhere, but I happen to live on Scratch Flat, and the reason I was intrigued by the place is the fact that it seemed to be lagging behind the normal pace of American time. There were five working farms there when I first moved to town. My intention was to write the history as a normal Eurocentric description of the place, beginning in 1654 with the first English settlements. Then I learned about the presence of the Nashobah Village, the Christian ["Praying Indian"] town established by John Eliot that lay on the eastern edge of Scratch Flat and Beaver Brook. I realized those people also had a history and were also farmers. So I started digging into the local Native American lore. That led me to the three- to four-thousand year history of the Eastern Woodland peoples, which led me to the Archaic people and finally, about 15,000 years ago, to the Paleo Indians, who had followed the melting glaciers northward, hunting the herds of mastodons and barren ground caribou.  All of these groups either lived or, as with the nomadic Paleo group, passed through Scratch Flat.
I kept wondering where to begin such a story, and realized that before the retreat of the glacier there was no history.  I learned  further that, starting with the Paleo hunters, human beings were changing the natural environment.  First to go were the large game animals, victims of what is known as the Pleistocene overkill.  Turns out, at least in part, the early native people (who really should be called Siberian Americans, since Siberia is where they came from) drove the large mammals of the ice age to extinction.
Probably the least destructive to the environment was the culture that followed, the so-called Archaic people, who were more settled and lived by hunting and plant gathering and whose culture lasted longer than any of the others, about 8,000 years. Finally agriculture arrived and the Indians began actively managing the land to grow crops and using controlled burns of the forest to encourage deer and bear populations and the growth of blueberries.
And after the Eastern Woodland tribes: the deluge — Western European culture.
We are still living in the midst of what is so far, and at this rate probably will be, the shortest of these cultural changes.
There are still remnants of the agricultural heritage of Scratch Flat, two working farms and three active farmstands, as opposed to five farms. But housing developments have been closing in from the north and southwest around the extant fields and forestlands. People driving through Scratch Flat still see it as mainly agricultural, but the land has been decidedly altered since 1984. The biggest change since I wrote the book has been the swift decline in bird populations. When I moved here the field next to the house was alive each spring with the calls of meadowlarks, blue-winged warblers, prairie warblers, yellow warblers, Maryland yellow-throats, and in the deeper woods, the calls of wood peewees, ovenbirds, black and white warblers, veeries, wood thrushes and red-eyed vireos. In summer king birds, great crested flycatchers, tree swallows and barn swallows, and the usual assortment of year-round garden birds were everywhere.
This spring and last summer I have neither seen nor heard a single one of these species. And what's happened on Scratch Flat is happening all over.  As one reviewer wrote: "Scratch Flat is and was, the world."
> So how do you understand conservation in a world of flux?
As part of my research for the book on the natural history of my garden — my Scratch Flat garden  — I ran across a 1971 English book by Jennifer Owens called The Ecology of a Garden. She is an ecologist and studied, over a fifteen-year period, the life in her tiny third-of-an-acre garden.  As I recall, she counted 1,757 species of animals living there (most of them insects) and about 422 plant species.
She sets this up against the changing landscape of rural England and argues that, done properly, i.e. without chemicals, suburban gardens could help maintain the tenuous balance of nature that is fast headed out of balance. That is essentially my argument in An Eden of Sorts [forthcoming], except that I will be be pointing out that the garden — all gardens  – are populated with plants that were once wild species, and wild species need wild lands.  The Wildlands Project of the Harvard Forest has the right idea. The aim with that group is to preserve the vast northeastern forest system through public and private conservation, and sustainable economic forestry.
I guess in the end, it's a question of education. I've got a foil for my garden just up the road in the form of the Beaver Brook Estates, one of the developments that subsequently took over the lands known as "Charlie's Fields" in Ceremonial Time. This is a graveyard-like development, with climate-controlled mausoleums where you hardly ever see people, let alone children playing out of doors. The grounds of these houses are perfectly manicured, usually by landscaping companies, and they are downright toxic.  I wouldn't want any of my children playing on the lawns there for fear of pesticide poisoning. In connection with my book research, I did a casual survey of the number of plants growing there.  I counted something like eight or ten different species in the whole development  — not counting the monoculture of the lawns. This as opposed to my landscaped, overgrown, but otherwise normal garden, where in one 20-by-30-foot patch I counted 37 species. I have yet to do a thorough survey of the whole garden, but I'm probably approaching the 422 species of Jennifer Owens' Leicester garden, in England.   Of course, I've got a lot more space.
Clearly there has to be a lot of education, but in the face of Kareiva's Anthropocene environment, if you believe him, maybe gardens will save us.
Cheers,
John
————————————–
Read part one of this exchange.